Where can you find us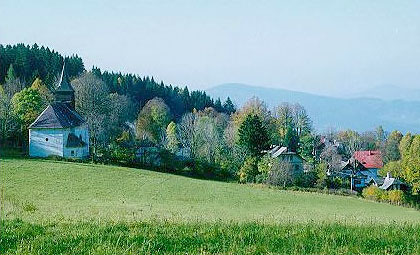 The village Hojsova Stráž is situated in the western part of Šumava, 10 km away from Železná Ruda, in the district Klatovy, at the altitude of 890 m/above sea level. The village was set up in the 16th century as a home place for miners extracting ores in the neighbouring mines. However, its importance began to increase as late as in the 20th century, in connection with tourism. Thanks to its position within The National Park of Šumava and its perfect accessibility by means of transport, the village informally called "Hojsovka" is really an ideal place for your holiday.
Accessibility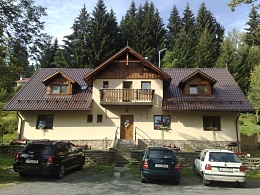 You will find our chalet "Snowman's" at the beginning of the village Hojsova Stráž, next to the road connecting Klatovy – Nýrsko – Železná Ruda; the road is very well accessible by car even in the winter. You will park your car right outside the chalet.
You may also use buses – the bus stop is about 100 m away from the chalet and the buses ČSAD run every 2 hours. However, if you want to go by train, you will have to walk a bit further – the railway station is situated in a beautiful wood, about 2 km away from the village, and there is a little train running every hour. We can only recommend using public transport means for your trips to the mountains – your romantic impressions will be even stronger!